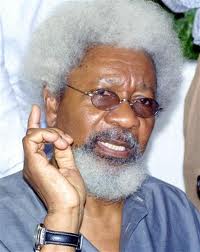 Nobel Laureate and prolific writer, Wole Soyinka has said that for Nigeria to experience breath of fresh air, the government should eliminate the dreaded Islamist sect -Boko Haram out of the country.

The celebrated writer said this on  Monday when he visited the United Nations.
Soyinka said: "This is a violent organization," Soyinka told IPS.

"What do you do with them? I am sorry, but you must fight them."
The writer was among  speakers such as actor Forest Whitaker and foremost economist, Jeffrey Sachs who delivered lectures at this year's International Day of Peace on how to build a global culture of
tolerance.
Soyinka told IPS about the situation in Nigeria, where Boko Haram sect wipes out innocent Nigerians on daily basis.
He said, "We have an organization which closes down schools, shoots faculty teachers, knocks out children and turns most of the north into an educational wasteland. How can we reach the children there? We must first get rid of Boko Haram."

"We have a contradiction.  How do we get rid of Boko Haram? Violence must become involved. That is a dilemma."
In similar development, Minister of Interior, Mr. Abba Moro has described Sunday bombing of a Catholic Church in Bauchi by the radical sect as "a cowardly, morally reprehensible and atrocious".
In a statement by his Special Assistant on Media, George Udoh on Tuesday, the Minister said, a rational person would not think of taking the life of his   neighbor for any reason whatsoever.
Moro said, "It is unthinkable that rational minds will just wake up with only one devilish thing in mind; to cause sorrow to families, wreak deep psychological pain on the society, all in the name of
religion or marginalization.

"It is an act of savagery  of the most unfathomable nature, to maim and kill worshipers on a day which is globally recognized, as one in which neighbours  should extend their hands of fellowship to believers
and non-believers in their faith; such an act is even unacceptable on any day anywhere  in any civilized society the world over." He added.
Culled from Daily Post.
Publish Date:
Wednesday, 26 September 2012